Thank you to our 2022 sponsors, attendees, speakers, and volunteers for making our Pre-Health Conference possible! Save the date: October 14th, 2023.
Due to the recent events surrounding COVID-19 in California, we are taking precautionary measures and we will unfortunately be cancelling the 2020 UC Davis High School Pre-Health Symposium.
This was a difficult decision as we know how much everyone was looking forward to the Symposium. However, the health and safety of our attendees and speakers are our main priority. As there is still uncertainty regarding COVID-19 and how it may impact cities across California within the next few weeks, we believe that cancelling the event is necessary to help protect our attendees, students, and community.
All registered attendees will be refunded their orders in full. If you have any additional questions or concerns, please email us at prehealthsymposium@ucdavis.edu.
Welcome
The 2020 Symposium will take place on Sunday, April 5th, 2020, between 9 a.m. to 3:30 p.m., with check-in starting at 8:15 a.m. in front of California Hall. Late check-in starts at 10:15 am at Wellman Courtyard area.
Please see Directions and Parking for directions and a map. Also, be sure to have your ticket and signed waiver form ready for check-in. ALL ATTENDEES must have a ticket, a signed waiver form, and a valid form of ID (e.g., school ID for all students and staff members) to take part in the symposium.
2020 Tentative Workshop Schedule
The 2020 Symposium workshops will take place in Wellman Hall from 10:15 a.m. to 12 p.m. and from 1:15 p.m. to 3 p.m. Workshops are available on a first-come-first-serve basis.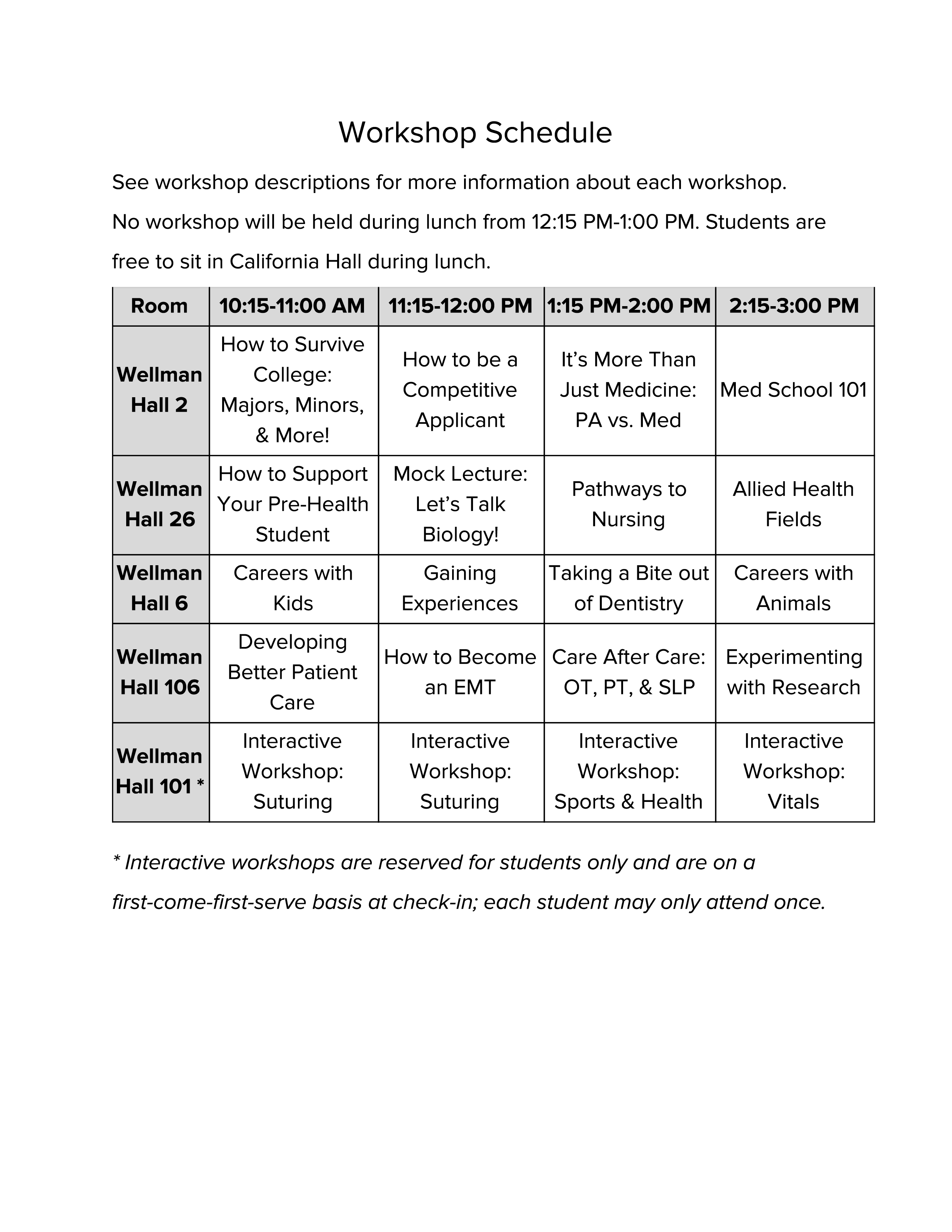 Please arrive promptly and remain for the entirety of each workshop. Also, please be sure to be respectful to the speakers, moderators, and other attendees; attendees may be asked to leave the room if found to be disrespectful and/or creating a disturbance.